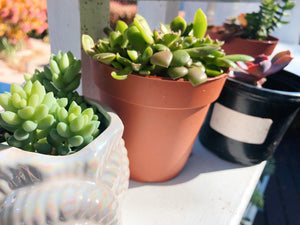 Based in Kingston, Ontario, we are a family-run home florist with a passion for succulents.

Discover a diverse selection of captivating species, from rosette-shaped classics to rare hybrids.

Explore our collection and start your succulent journey today!
Easy to take care 🌵 Easy to love 💕
Carefully arranged to survive and thrive in your home. Each succulent is nurtured with care and our detailed care instructions and specialized soil mixes ensure success, whether you're a beginner or an experienced enthusiast.
The perfect gift for those who love (and hate) plants.
Contactless DELIVERY + PICKUP

Purple area delivery - FREE over $100
Otherwise $10 flat rate
-
Non-purple region delivery - EXTRA
Available upon request
-
Anytime pickup - FREE
964 Alpine Court, Kingston, ON
(Preferably 10am - 6pm any day)